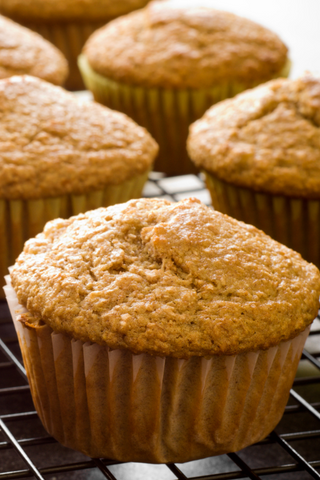 Pureblend Chai Muffins
Chai tea warms this muffin to a perfect blend of spice and flavor
Ingredients
1 ¾  all-purpose flour 
1/2 cup packed brown sugar 
1 teaspoon baking powder 
1 teaspoon baking soda 
1/4 teaspoon salt 
2 tablespoons Pureblend Chai Tea
1 cup low-fat buttermilk 
1/4 cup butter, melted 
1 1/2 teaspoons vanilla extract, divided 
1 large egg, lightly beaten 
Cooking spray 
1/2 cup powdered sugar 
1 tablespoon water
Ice for serving
Directions
1. Preheat oven to 375°.
2. Lightly spoon flour into dry measuring cups; level with a knife. Combine flour and next 4 ingredients (through salt) in a large bowl, stirring with a whisk. Add tea to flour mixture, stirring well. Make a well in center of mixture. Combine buttermilk, butter, 1 teaspoon vanilla, and egg in a bowl, stirring well with a whisk. Add buttermilk mixture to flour mixture, stirring just until moist.
3. Place 12 muffin-cup liners in muffin cups; coat liners with cooking spray. Divide batter evenly among prepared muffin cups. Bake at 375° for 15 minutes or until a wooden pick inserted in center comes out clean. Cool for 5 minutes in pan on a wire rack.
4. Combine remaining 1/2 teaspoon vanilla, powdered sugar, and 1 tablespoon water, stirring until smooth. Drizzle evenly over muffins.
These muffins freeze well. 
Based on a recipe from Cooking Light